September 26, 2017
Words by Lashaurn and Elizabeth
Compiled by Khyle Paylor, Safe Space NOVA Social Media Correspondent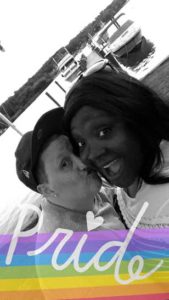 I honestly knew Liz was the one for me when we broke up for a few months to realize what we truly wanted. The moment she stepped out the door, my world went too. However, we know we needed that break and it was the best thing we did for our relationship.
We decided to get married after being together 3 years. Marriage equality means to me that you can love who you want no matter their sexuality. Love is love.
Raising two children in a same sex marriage, hasn't had any challenges yet. I am sure that in the future, there will be other children who may make negative comments, but we have taught our children that we see no color, nor judge anyone for who they are or who they love.
To the younger generation, follow your heart always. Do not let anyone stand in the way of your happiness or stand in the way of who you want to be with. Remember, only you can write your story. Don't allow anyone to write it for you.
Lashaurn and Elizabeth have been together 7 years this November and will be married 4 years this February they have two beautiful children, one girl who is 12 and one boy who is 8. We both work for a before and after school program. Remember, you don't find your soulmate in a day. It took us 28 years ❤️.