ceiland85
November 21, 2017 Words by David Leon Morgan My younger self could not have possibly anticipated the person it was [...]
ceiland85
October 17, 2017 Words by Khyle Paylor, Safe Space NOVA Social Media Correspondent Growing up, I wish I was exposed [...]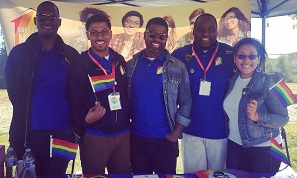 We look forward to an opportunity to work with like-minded individuals and organizations. If you are interested in joining our team or partnering with us, or if you would like the Safe Space NOVA team to volunteer at an event or program, fill out our contact form to get in touch.
"Starting a non-profit for kids has been something on my heart for years. I've always worked with kids, whether tutoring or mentoring. In early 2016, I started to develop the idea of Safe Space NOVA to target the LGBT+ community and I'm looking forward to the work we are about to do."

Founder/Executive Director – Jordan Costen
"Growing up in New York City, I saw firsthand social stigmas, drug abuse among friends, depression, and the list goes on. There were some organizations like Safe Space NOVA, but they couldn't meet the needs of all those facing these challenges. We need more organizations like Safe Space to spring up in communities. It's my hope to have chapters of this organization across the country."

Safe Space NOVA Board Member – Charles Sumpter
Safe Space NOVA is dedicated to providing a safe, accepting, and supportive environment to combat social stigmas, bullying, and other challenges faced by LGBT+ youth.
According to the latest study released by the Centers for Disease Control and Prevention (CDC), LGBTQ+ youth are at increased risk for suicidal thoughts and behaviors, suicide attempts, and suicide. In addition, LGBTQ+ youth were more likely than heterosexual youth to report high levels of bullying and substance abuse. The goal of Safe Space is to protect our youth from these perils by providing a positive environment and welcoming staff that embrace, uplift, and encourage them. Our ultimate goal is to ensure 14–18 year olds in the Northern Virginia area have access to an organization and activities that promote equality.
High School Students:
14-18 years old
Service Area:
Northern Virginia
26% of LGBT youth say their biggest problems are not feeling accepted by their family, trouble at school/bullying, and fear of being out/open. (Source: HRC)

34.2% of LGB students reported being bullied on school property (Source: Centers for Disease Control and Prevention (CDC) Survey)

42.8% LGB students had seriously considered attempting suicide during the 12 months before the survey (Source: Centers for Disease Control and Prevention (CDC) Survey)

LGBTQ students reported feeling less safe at school, and were more than twice as likely to have missed school because they felt unsafe or uncomfortable (36.6% of LGBTQ students vs. 14.7% of non-LGBTQ students) (Source: GLSEN)

29.4% of LGB students had attempted suicide one or more times during the 12 months before the survey (Source: Centers for Disease Control and Prevention (CDC) Survey)